Next phase of digitising corporate banking in a hyper-connected world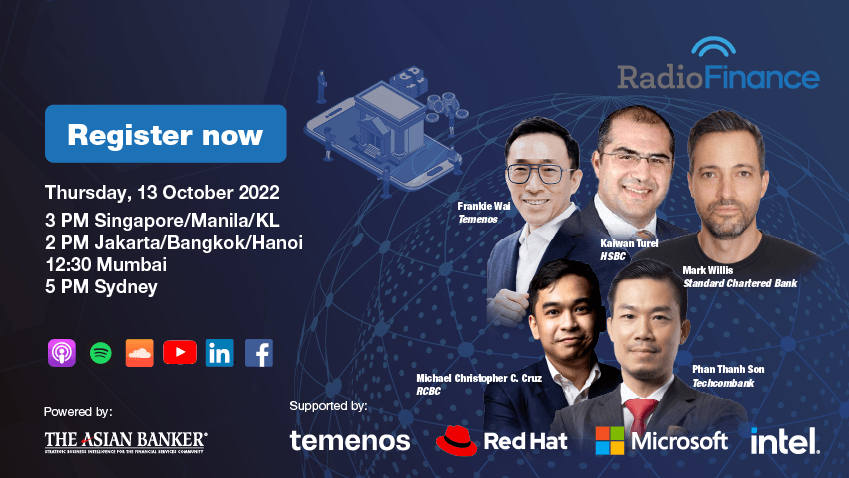 In this RadioFinance session, we will discuss how developing open banking frameworks and secured APIs can scale up financial services offerings.
The financial services industry has undergone an accelerated phase of digitalisation. The advancements in technology have disrupted existing businesses and increased competition for incumbent banks. Non-traditional players have implemented upgraded technology stack and adopted more agile and customer-centric operating models. This has led for traditional banks to adopt rapid digital transformation to stay relevant.
Corporate banking transformation and modernisation is a top priority for many financial institutions (FIs) towards enabling data, digital channels and ecosystem partnerships more effectively to drive business growth. More complex regulations, advanced technologies, customer expectations, and competition are pushing FIs to invest heavily in transforming their core business processes towards customer-centric engagement and transactions. Furthermore, they are leveraging artificial intelligence (AI), machine learning (ML) and big data analytics to offer a hyper-personalised banking experience. To address challenges faced in digitising corporate banking, banks must implement the right technologies, set their strategies to identify their business partners and adopt the operating model that will suit their customers' needs. Hence, benefiting from an open finance ecosystem that is catalysing new business models and increasing the disruption on an extraordinary scale.
This has led to an increased focus on composable banking architecture that allows greater flexibility, scalability, adaptability, security and the ability to create new ecosystem-based business models such as banking-as-a-service (BaaS) thereby adding new revenue streams. The acceleration of cloud adoption as software-as-a-service (SaaS) can drive innovation and agility while operating efficiently. Adopting open data through secure application programming interfaces (APIs) enhances accessing data transactions, offers customised products, and designs a successful digital ecosystem while sustaining growth. For legacy-driven banks, this process of extensive transformation can be challenging which requires holistic strategic planning and approach.
In this RadioFinance session, we will discuss how developing open banking frameworks and secured APIs can scale up financial services offerings. It will also highlight challenges and opportunities of utilising cloud-based solutions for connectivity, agility, and sustainability. The discussion will focus on the following key areas:
The discussion will provide clear insights on:
Key insights from Temenos and IDC study on "Identifying the challenges and the opportunities in digitising corporate banking"

How a composable banking approach can advance FIs capabilities at scale through open and secure cloud-native platforms?

Utilising open banking APIs to build resilient real-time transactional services, enhance risk controls and meet regulatory compliance

The rise of embedded finance and banking-as-a-service to personalise the end-to-end customer journey

Identifying challenges and best practices for integrating new and emerging solutions to achieve greater hyper-personalised experience
Supported by:



About The Asian Banker RadioFinance:
The Asian Banker RadioFinance aims to enhance understanding of the finance industry globally by bringing together thought leaders, industry experts, practitioners and futurists to examine current, critical issues through a discussion facilitated by visual and web-based platforms. Through the use of interactive technology, participants do not have to take time out from their crowded schedules or leave the comfort of their own desks.